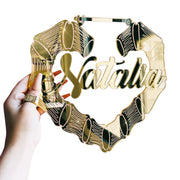 Customized Bamboo Plate
$90.00
10.5" x 9.7" 1/8th Gold Mirrored Acrylic plate. 
Decorate your favorite tabletop, dresser, or desk!! You can also hang it right on your wall!! Acrylic is a high-grade plastic similar to glass, it is very fragile and must be handled with care <3 Please allow 4-5 weeks for the shipment of your custom item.
Please leave customization requests under "Customization Request" during checkout. We highly recommend a minimum of 4 Characters and a Maximum of 8. Not all caps. If a name is not provided this can seriously delay shipping.
This product is unavailable
ADDITIONAL PRODUCT INFORMATION